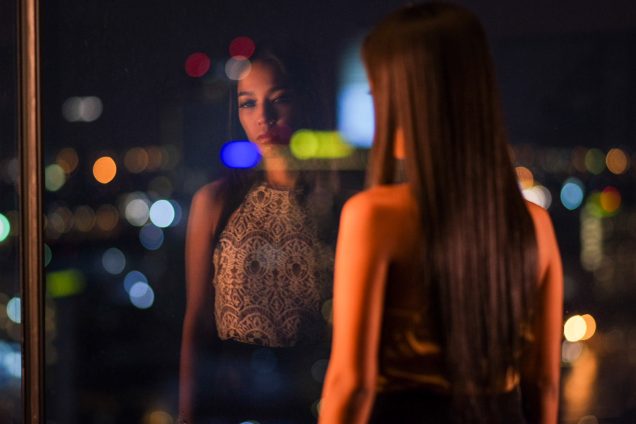 Bangkok Nites
2016 / 183min / Japan-France-Thailand-Laos
In Co-Production with
Flying Pillow Films, Trixsta, Les Films de l'Étranger, Bangkok Planning, Lao Art Media
A Film by Katsuya Tomita
Cast
Subenja Pongkorn, Sunun Phuwiset, Chutlpha Promplang, Tanyarat Kongphu, Sarinya Yongsawat, Hitoshi Ito, Yohta Kawase
Shinji Murata, Taro Sugano, Shinsuke Nagase, Apicha Saranchol, Marisa Tuntawee, Anchuri Namsanga, Dokoie Thonabood, Benny Wright
Crew
Director and Screenplay: Katsuya TOMITA
Born in 1972 in the city of Kofu, Japan. After graduating from high school, he saved money to make films by working as a construction worker and a truck driver, using his childhood friends as actors. For three years, using an 8mm camera, he spent his weekends making his first film, Above the Clouds, which was released in 2003. With the award he won for this film, he shot Off Highway 20 (2007) using 16mm film. In 2008, he decided to make Saudade (2011), basing the story in his hometown of Kofu. Saudade was funded with help from the citizens of Kofu and took a year and half to film. It was invited to the Locarno International Film Festival and won the Golden Montgolfiere Award at the 3 Continents Film Festival in France. The film was invited to many other festivals, including four that organised retrospectives of Tomita's work, notably the Jeonju International Film Festival. In Japan, the film was viewed by 30,000 people, making it a box office hit. In 2012, Tomita started going back and forth between Bangkok and Tokyo.
ABOVE THE CLOUDS (Kumo no ue, 8mm -> DVCAM, colour, 140 minutes, 2003)
OFF HIGHWAY 20 (Kokudo 20 gosen, 16mm -> DVCAM, colour, 77 minutes, 2007)
FURUSATO 2009 (HDV, colour, 50 minutes, documentary, 2009)
SAUDADE (HDV -> 35mm -> DCP, colour, 167 minutes, 2011)
Screenplay and Director's Assistant: Toranosuke AIZAWA
Born in 1974. A member of KUZOKU. In the 90s, he's traveled all around Asia. He makes a documentary movie, Flower Story Babylon (97) based on the Hmong tribe in China and the Golden Triangle. He worked at a motorcycle shop to create and direct the film, KATABIRA Street portraying Japanese motorcycle gang. While making this film, Tomita who was a truck driver befriended Aizawa which led to him ending up being in Above the Clouds (2003) as an actor and staff. After the film was done, they created the production group, Kuzoku. They co-wrote Off Highway 20 (07) and Saudade (11). His newest creation is Guns of Babylon (13), a Vietnam war themed film.
Director of Photography: Studio Ishi (Masahiro MUKOYAMA, Takuma FURUYA)
Member of the Japanese hip hop crew, stillichimiya. They make films and artworks of the group. They are based at Ichinomiya of Yamanashi, Japan.
Production Company: Kuzoku Inc.
The group of filmmakers called Kuzoku was created in Tokyo in 2001 by Katsuya Tomita, Toranosuke Aizawa and Yoshiko Takano. Kuzoku literally means "tribe of sky" in Japanese. This name originates from a project that Taku Igawa (a member of the group, who was also a novelist, he passed away in April 2011) was pursuing at the time: "They used to fly around the skies but migrated underground. They look up through the latticework to see the outside world." For surviving, the filmmakers support each other and all have another job not connected to cinema industry. In 2010, they incorporated Kuzoku.
Credits
Subenja Pongkorn, Sunun Phuwiset, Chutlpha Promplang, Tanyarat Kongphu, Sarinya Yongsawat, Hitoshi Ito, Yohta Kawase
Shinji Murata, Taro Sugano, Shinsuke Nagase, Apicha Saranchol, Marisa Tuntawee, Anchuri Namsanga, Dokoie Thonabood, Benny Wright
Written by Toranosuke Aizawa, Katsuya Tomita
Directed by Katsuya Tomita
DJs : SOI48, Yong-G
Director of Photography : Studio Ishi (Masahiro Mukoyama, Takuma Furuya)
Sound : Iwao Yamazaki, Young-G
Assistant Director : Kentaro Kawakami
Hair, Make-up and Costume : Piya Niyom, Nunnaphat Wattanajaroenporn
Still Photographer : Takahiro Yamaguchi
Line Producer : Shinsuke Nagase
Associate Producer Terutaro Osanai
Co-Producers : Atsuko Ohno, Ryohei Tsutsui, Philippe Avril, Apicha Saranchol, Douangmany Soliphanh,
Mattie Do
Produced by Kuzoku, Flying Pillow Films, Trixsta, Les Films de l'Étranger, Bangkok Planning,
Lao Art Media
A Co-Production between Japan, France, Thailand and Laos
With the Support of Agency of the Cultural Affairs, The Japan Foundation, Eurométropole de Strasbourg,
Région Alsace Champagne-Ardenne Lorraine